New Album – work in progress
Published
12 February 2011
|
By
gadjet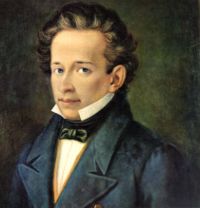 Exciting news! We're currently working on the songs for our second CD.
The title, as for now, is "De iure belli" which means more or less "the right of war". It's a concept cd about the meaning of war, starting from the work of a great italian poet from the XIX century, Giacomo Leopardi.
In his work "Paralipomeni della Batracomiomachia" he talks about war in a very modern way, so modern that it seems like watching the news on CNN. We took the eight stanzas of the poem and wrote lyrics wich can bring their meaning to our presnt world, to demonstrate that humanity makes the same mistakes again and again instead of looking at its past and trying to follow a real path of evolution…
The songs are:
1. Instrumental overture (yet untitled)
2. A Handful of Dust
3. Libra
4. Me, My Enemy, Myself
5. Just War (Bellum Justum)
6. No Country for Heroes
7. Exile
8. Nothing but Words
9. The Never Ending Quest
The 10th song is a cover of a popular choir song in the Friulan language, which is my mother tongue. More details on it will be available in the future!
We decided to pay a tribute to the great italian composers of the XIX Century (when Italy was a world-renowned culture capital) like Verdi, Puccini, Rossini and Donizetti. For this reason we will feature a complete symphonic orchestra and choir arrangement on the whole album!
It's not going to be easy-listening-mainstream music. We want people to listen to it and think about the message we want to give. It's going to have more heavy metal, more prog influences, more melodies, more of everything. We're working really hard on this project, and look forward to completing it as soon as possible!
Share the news and get in touch with us!
Gadjet
Donations
Support independent music!
Random Pics