Hi everyone!
We hope you enjoyed our last single, "The Defeat". It's time for this song's new lyric video, so we recorded a short video message for you all!

And, of course, here's the lyric video for you to enjoy!!!… Continue reading →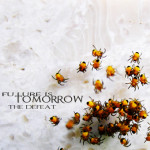 You have waited for so long, but now the day has finally come!
Our new single, "The Defeat", is now available for download!
It features our new singer Michele Guaitoli and guest bass player Fabio D'Amore (Pathosray, Serenity). The song… Continue reading →