Gadjet's next guitar? Maybe a VGS
Published
3 May 2011
|
By
gadjet
About ten years ago I bought my last guitar, the one I mainly use: a LTD M-350. It's a good instrument, mahogany neck through body with rosewood fingerboard. Obviously, I fully customized it!
After one week or so, I took away the built in EMG-HZ pickups, which are real sh*t, with a couple of EMG 81 and 89. It took me years to learn how to manage my right hand in order to play dinamically with an active pickup, but now I couldn't play without an EMG 81 near the bridge.
I don't use at all the single coil in the middle, so I choosed to shut it up by changing the original 5-ways switch with a silver Fender 3-ways one. It helps me changing the pickup selection really fast when I play live!
The EMG 89 can be splitted into a single coil with a push pull switch in the tone knob. This is the only thing I use that knob for! However, this single coil is quite as brilliant as a Fender one, but it's too noisy for the live shows, IMHO. However, it's very good for the recordings. As an humbucker, the EMG 89 has a very warm clean, which I like a lot.
Then I changed the original crappy Floyd Rose-like bridge with a Schaller one, and the machine heads with Grover ones. These are very good components, which make a real difference. The Schaller bridge helps by giving the guitar a good sustain for a Floyd bridge and reduces the detuning when you bend a string.
This is the final result: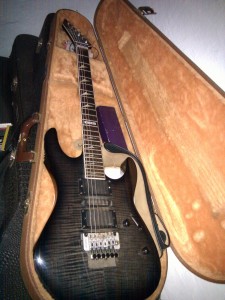 The main reason for the rusted strings is MY OWN BLOOD!!! This happens because I use the pick in a very strange way, and when I play a little harder I end up covering in blood the strings…
However, during the last 10 years I had the chance to try tons of guitar, since my needs slightly changed. Therefore, I defined my ideal guitar's requirements:
- Mahogany bolt on body
- Ebony fingerboard (the rosewood emphasizes frequencies around 6KHz, which are bad with a very heavy distortion)
- EMG 81 & 85 pickups (the 89 one is good, but I think that the 85 pairs better with the 81)
- Schaller bridge with auto-lock tuners. (Yes, I need far more sustain!)
- Piezoelectric pickup (useful for the live shows)
- Active booster for mid frequencies, like this one (never listened to it, but I'm really curious about)
My good friend Raffaello is now endorser for VGS Guitars. He made me try the Pro Series Eruption Europe MP-1, Roland Grapow signature. I don't like signature models too much, I think they affect the musician's personality, but this one is a really good instrument. I feel really tempted.
Anyway, the technical specs are:
Solid Mahogany body, solid Flamed Maple top (AAA selection)
24,75″ scale, 43 mm graphite nut
Set Maple neck, Ebony fingerboard with binding with 22 Dunlop Accu-Fret 6000 frets
VGS-V fingerboard inlays in mother-of-pearl
2 active EMG humbucker 81 & 85 chrome covered
2 volume, 1 tone control, 3-way switch
Schaller GTM Tune-O-Matic bridge, Stop-Tailpiece
Schaller M6 locking machine heads
Chrome hardware
Made in Europe
Not bad! I could install the piezoelectric pickup and the mid booster later. I don't know why they embed the booster in a push pull switch rather then a push push one. How could someone find a push pull comfortable? With a push push I could at least punch the knob! It's fast! It's spectacular!
Well, this is the guitar:

Very Gibson style, I like it! I don't appreciate that much this kind of pickup switch, but I think I can live with it.
I'd like to read what you, fellow guitarists, think about it!
Take care
Gadjet
Posted in
Guitar gear
,
Music stuff
,
Musical instruments
|
Tagged
Field
,
Fit to Die
,
Future Is Tomorrow
,
Gadjet
,
Grave
,
guitar
,
guitar gear
,
heavy metal music
,
italian heavy metal band
,
italian prog-power metal band
,
Max
,
metal band
,
metal music
,
musical instruments
,
Pablic
,
prog metal
,
prog-power
,
prog-power band
Donations
Support independent music!
Random Pics