"Grave, I have a new song! Yes, it's power metal!!!"
Published
21 May 2011
|
By
Grave
Sometimes, before entering the reharsal room, I hear that sentence from Gad…
Don't misunderstand me, I like the top power metal bands like Helloween or Gamma Ray and I saw them live a couple of times; the fact is that I don't like very much the drum parts because I find them a little bit boring
 Anyhow I have to say that one of my favourite rock drummers is Uli Kusch: his drumming in the Helloween's albums is brilliant!!!
I think that Future is Tomorrow play a sort of symphonic power metal with traces of progressive metal: well, I still prefer to call it heavy metal.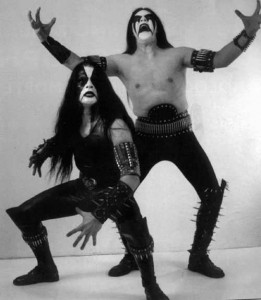 Somewhere I read that one of the new milestones of the genre are Dragonforce. Very good band with great musicians but IMHO they fit better with "Guitar Hero".
But let's go back to the headline sentence.
"Fit to Die" has a lot of things that remind of power metal: the riffs, the melodies, the voice and the double base. It's not easy to be original nowadays but we tried to give personality to the songs: listening to the Album someone have found it someone else not. Our serious mistake would be to stop using the usual power metal riff to create the arrangements: fortunately, what is emerging from the new album is totally different. The new album is taking a more heavy and sometimes fast mood, almost thrashy. I could call it power metal pantera. :):)
Lately Gad have not said that sentence anymore: do I have to be worried?
An important thing: if you wnat to listen to good heavy progressive metal music, go to "ProgPalace web-radio": you can request and listen to a lot of good heavy bands who plays Prog-metal: Yes, there are Future Is Tomorrow, too. But weren't we a power metal band? Ok, I'll tell to ProgPalace to become a power metal radio!!

Bye!!
Grave
Donations
Support independent music!
Random Pics